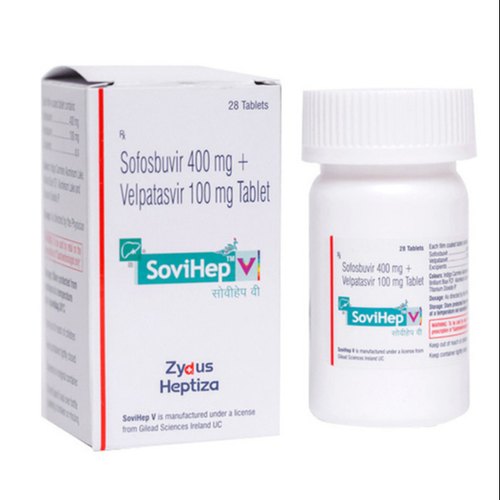 Sovihep 400mg Tablet is an antiviral medication. It is used along with other medications for the treatment of chronic hepatitis C virus (HCV) infection. It works by lowering a load of hepatitis C virus in the body and removing the virus from the blood over a period of time.
Sovihep 400mg Tablet should be taken in the dose and duration as advised by your doctor. Do not skip any doses and finish the full course of treatment even if you feel better. It should be taken with food, preferably at a fixed time. If you miss a dose, take it as soon as possible. However, if it is almost time for your next dose, skip the missed dose and go back to your regular schedule. Do not double the dose.
Sovihep 400mg Tablet works by preventing the HCV virus from multiplying in your body. It helps control the infection and makes the immune system work better. This lowers your chances of getting complications and improves your quality of life. This medicine is always taken in combination with other antiretroviral medicines. It is not a cure and should neither be used to prevent HCV infection. It is important that you take this medicine as prescribed, following the dosage recommended by your doctor. Taking all doses in the right amount at the right times greatly increases the effectiveness of the medicine.
Most side effects do not require any medical attention and disappear as your body adjusts to the medicine. Consult your doctor if they persist or if you're worried about them.