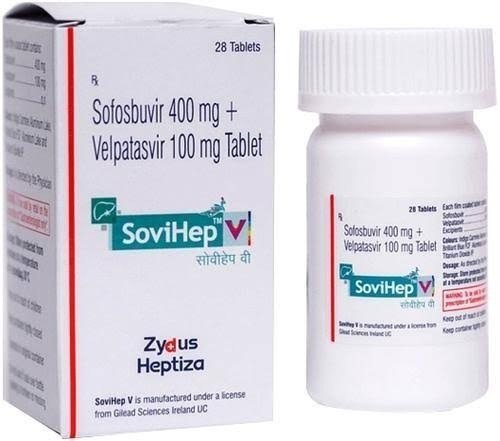 Sovihep V Tablet is a combination of two antiviral medicines. This prescription medicine is used in the treatment of chronic hepatitis C virus (HCV) infection. It fights against the viruses to resolve the infection.
Sovihep V Tablet should be taken in the prescribed dose and duration. It can be taken with or without food, but take it at the same time daily. It is advised not to consume more than the recommended dose. It is important to inform your doctor if you have any health conditions such as liver or kidney disease. It is harmful to consume alcohol along with this medicine, so it is advised to limit or avoid alcohol. The course of the medicine should be completed for better results.
The common side effects of this medicine are tiredness and headache. You should drink plenty of fluid and eat a healthy diet to prevent or overcome the side effects. Before taking the medicine, inform your doctor if you are taking any other medicines or supplements.
Hepatitis C is a liver infection caused by the hepatitis C virus (HCV). When the infection moves into a long-lasting stage, it is called chronic hepatitis C virus infection. Sovihep V Tablet helps reduce the number of hepatitis C virus by preventing it from spreading in your body. This helps control the infection and helps you recover faster. It is important that you take this medicine as prescribed, following the dosage recommended by your doctor.
Take this medicine in the dose and duration as advised by your doctor. Swallow it as a whole. Do not chew, crush or break it. Sovihep V Tablet may be taken with or without food, but it is better to take it at a fixed time.