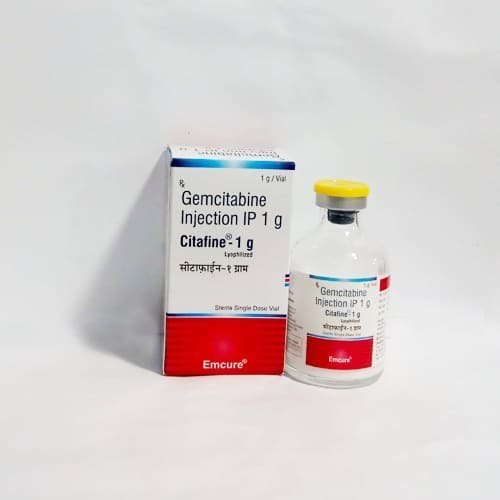 Citafine 200mg Injection is used in the treatment of non-small cell lung cancer, breast cancer, pancreatic cancer, urinary bladder cancer, and ovarian cancer.
Citafine 200mg Injection is given as an injection by a qualified medical professional. Your doctor will decide what dose is necessary and how often you need to take it. This will depend on what you are being treated for and may change from time to time. You should take it exactly as your doctor has advised. Taking it in the wrong way or taking too much can cause very serious side effects. It may take several weeks or months for you to see or feel the benefits but do not stop taking it unless your doctor tells you to.
The most common side effects of this medicine include nausea, vomiting, loss of appetite, hair loss and low blood platelets. This medicine may reduce the number of blood cells (decrease red blood and white blood cells) in your blood, thereby, increasing the susceptibility to infections. Regular blood tests are required to check your blood cells along with heart, liver, and blood uric acid levels.
Non-small cell lung cancer is one of the major kinds of lung cancer and it affects both smokers as well as non-smokers. Citafine 200mg Injection helps treat non-small cell lung cancer and may be given alone or in combination with other medicines. It is a potent and very toxic medicine and you should discuss the risks and benefits with your doctor. You should avoid drinking alcohol while having this treatment and drink plenty of water to stay hydrated.
Citafine 200mg Injection interferes with the growth of DNA and RNA of the cancer cells by substituting their building blocks. It prevents the cancer cells from growing and multiplying.