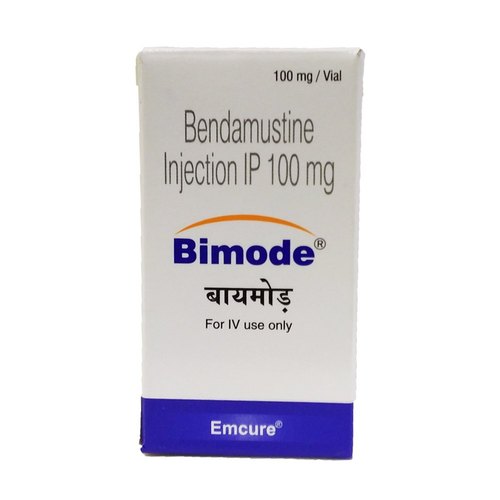 Bimode 100mg Injection is used to treat cancer of the lymphatic system such as Non-Hodgkin's Lymphoma (NHL). It may also be used to treat other types of cancer as determined by your doctor. It can be used alone, or together with certain other medicines as part of combination chemotherapy.
Bimode 100mg Injection is given as an injection into vein under the supervision of a doctor and should not be self-administered. This will depend on what you are being treated for and may change from time to time. You should take it exactly as your doctor has advised. Taking it in the wrong way or taking too much can cause very serious side effects. It may take several weeks or months for you to see or feel the benefits but do not stop taking it unless your doctor tells you to.
The most common side effects of this medicine include anemia (low number of red blood cells), decreased white blood cell count, infection, fatigue, nausea, and vomiting. If these bother you or appear serious, let your doctor know. There may be ways of reducing or preventing them.
Non-Hodgkin's lymphoma is a cancer of the white blood cells in our body, also called mantle-cell lymphoma. White blood cells are those cells that help us to fight infections. Bimode 100mg Injection helps to restrict cancer growth and also blocks the action of other chemicals that are required for cancer growth and further spread. Avoid being in crowds and wash your hands often to prevent any infections. Have plenty of fluids, unless otherwise advised by the doctor not to.
Bimode 100mg Injection is an anti-cancer medication. It works by damaging the genetic material (DNA and RNA) of the cancer cells. This stops their growth and multiplication.